Heroes : Ian Anderson
---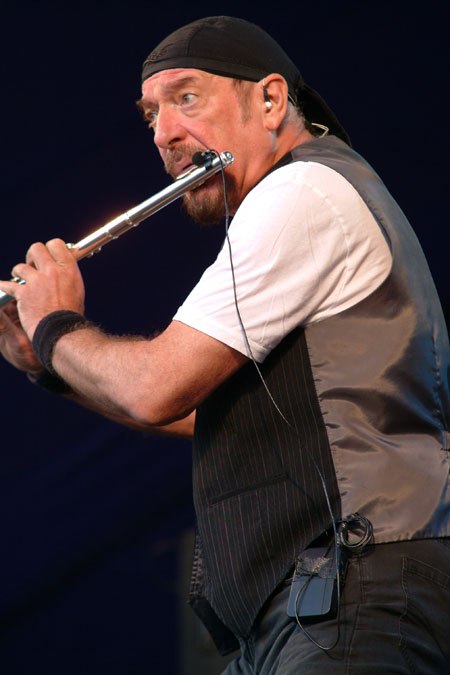 Photo: © Noel Buckley/GRTR!

Boxing Day, Thursday 26 December 2013, 16:00
Ian Anderson interview highlights
---
Broadcast history:
Sunday 14 July, 21:00 (Monday 15 July, 16:00, Thursday 18 July 00:00 repeat )
Peter Ross talks to Ian Anderson
Sunday 25 March, 18:00 "Life Is A Long Song" repeat
David Randall talks to Ian Anderson
GRTR! Archive, Sunday 12 February 2012, 14:00 "Life Is A Long Song" repeat
David Randall talks to Ian Anderson
GRTR! Archive, Saturday 5 November 2011 16:00
Ian Anderson chats to Pete Feenstra in September 2009.
"Heroes", Sunday February 28, 21:00 "Life Is A Long Song"
David Randall talks to Ian Anderson
"Heroes", Sunday June 12 2011, 18:00 (repeat)
Playlist
IAN ANDERSON Life Is A Long Song/My God
from Ian Anderson Plays The Orchestral Jethro Tull (2005)
JETHRO TULL Living In The Past
from Live In Montreux 2003 (2007)
IAN ANDERSON In The Grip Of Stronger Stuff
from Divinities Twelve Dances With God (1995)
JETHRO TULL Aqualung
from 25th Anniversary Special Edition (1996)
IAN ANDERSON Fly By Night
from Walk Into Light (1983)
Sunday, 28 August 2011 22:00 (Monday 29 August, Friday 2 September 22:00 repeat)
Ian Anderson chats to David Randall about his hatred of festivals and his forthcoming tour in the UK.
February 2010, Featured Artist

Sunday 21 July 2013, 18:00

Peter Ross talks to Ian Anderson
---
IAN ANDERSON
Elder statesmen of rock maybe, but there seems no slowing down for Ian Anderson and Jethro Tull. Now in their forty-third year, they embark on an extensive UK tour in February 2010.
Ian Anderson M.B.E. started out musically in the early sixties in Blackpool and formed the first line-up of the Jethro Tull band in 1967. He has been the mainstay ever since, together with guitarist Martin Barre who replaced Mick Abrahams in 1969. The band's album highpoint is generally perceived as "Aqualung", released in 1971.
In spite of many line-up changes through the years, the band have retained their signature sound: a mixture of English folk, rock, blues and progressive. In the late eighties they even surfed the tide of popular taste and received a Grammy for "Best Hard Rock/Metal Performance" for the album ' Crest Of A Knave' (1987).
With a band famed for its longevity, inevitably there have been several key anniversary releases: in 1988 a boxed set "20 Years of Jethro Tull" included BBC sessions and outtakes whilst in 1993 the 25th Anniversary celebration came in the shape of a sumptuous cigar box.
Separately, Ian Anderson released his first solo album in 1983 'Into the Light', a collaboration with Peter-John Vitesse who at that time was also keyboard player with Tull. In 1995 came 'Divinities: Twelve Dances with God", and later 'The Secret Language of Birds' (2000) and 'Rupi's Dance' (2003).
A multi-instrumentalist, Anderson is best-known for his flute playing and almost single-handedly brought that instrument into a rock format, allied to his very visual approach which although easily parodied remains an iconic image of 1970's rock music.
---
Ian Anderson Tour Dates 2014

APRIL
28th Brighton Dome 01273 709 709
29th Southampton Guildhall 023 8063 2601

MAY

01st Salisbury City Hall 01722 434 434
02nd Liverpool Philharmonic 0151 709 3789
03rd Birmingham Symphony Hall 0121 345 0600
04th Oxford New Theatre 0844 871 3020
06th Bristol Colston Hall 0844 887 1500
07th High Wycombe Swan Theatre 01494 512 000
08th Guildford G Live 0844 7701 797
09th Cambridge Corn Exchange 01223 357 851
10th Ipswich Regent Theatre 01473 433 100
11th Leicester De Montfort Hall 0116 233 3111
13th Derby Assembly Rooms 01332 255 800
14th Manchester Palace Theatre 0844 871 3019
15th York Royal Opera House 0844 871 3024

MAY

16th Newcastle Sage Theatre 0191 443 4661
18th Edinburgh Festival Theatre 0131 529 6000
19th Perth Concert Hall 01738 621 031
20th Aberdeen Music Hall 01224 632 080
21st Inverness Eden Court 01463 234 234
24th London 02 Shepherds Bush 0844 477 2000
Empire
25th London 02 Shepherds Bush 0844 477 2000
Empire



---
Gig review (30 June 2013)
Page updated 25.11.13
---