Featured Artist: Joan Armatrading
---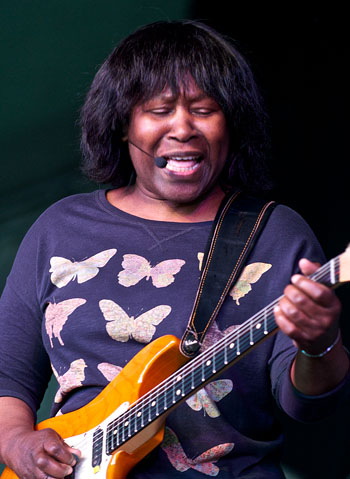 Photo: Bob Singleton for GRTR!
Featured Artist: June 2012
We'll be adding more of Joan Armatrading's music to our general playlists.
Sunday 3 June, 18:00 (Sunday 10 June, 14:00 repeat)
"The Songwriters" - Joan Armatrading
Joan talks to David Randall about her career
Sunday, 10 June, 18:00
''Favourite Tracks from Favourite Artists'
Joan Armatrading's choice of music
---
JOAN ARMATRADING
Joan Armatrading's debut album came out in 1972, but it wasn't until 1976 that she achieved wider acclaim with her self-titled album which included the international hit 'Love And Affection'. Remaining with A&M for the next decade, she achieved success with her subsequent albums including 'Me Myself I', the title track becoming one of her most successful singles.
For the past decade she has continued to record and perform with a trilogy of albums reflecting different aspects of her musical style: Into The Blues (2007), This Charming Life (2010) - rock - and Starlight (2012) - jazz.
Joan has received several industry awards including several Grammy nominations and in 1996 was awarded the Ivor Novello Award for Outstanding Contemporary Song Collection.
She is touring extensively in the UK for the remainder of 2012.
---
Tour Dates 2012
JUNE
1/6/2012 Friday New Morning Paris
2/6/2012 Festival Saturday Veranstaltungszentrum Pfarrheim Burglengenfeld
3/6/2012 Festival Sunday Strobels Open Air Dortmund
4/6/2012 Festival Monday Kulturzelt Wolfhagen Wolfhagen
7/6/2012 Thursday Salisbury Festival Music and Art Salisbury
8/6/2012 Friday Forum Bath
9/6/2012 Saturday Princes Theatre Aldershot
14/6/2012 Thursday Effenaar NL-Eindhoven
15/6/2012 Friday De Boerderij NL-Zoetemeer
16/6/2012 Festival Saturday Freilichtbühne Bad König Bad König
22/6/2012 Friday Octagon Theatre Yeovil
23/6/2012 Saturday Theatre Brycheiniog Brecon
24/6/2012 Festival Sunday Isle of Wight Festival Isle of Wight
29/6/2012 Friday Assembly Hall Worthing
30/6/2012 Festival Hop Farm Festival Kent

JULY
1/7/2012 Festival Sunday Folklore Festival Jersey
19/7/2012 Festival Thursday Vallemaggia Festival Maggia Switzerland
20/7/2012 Friday Burg Wilhelmstein GER-Würselen
21/7/2012 Saturday Kulturarena GER-Jena
27/7/2012 Friday The Embassy Theatre Skegness
28/7/2012 Saturday Civic Hall Darlington
29/7/2012 Sunday Joan to Headline:Cambridge Folk Festival Cambridge
AUGUST
9/8/2012 Festival Thursday Joan to Headline Gawsworth Hall Cheshire
10/8/2012 Festival Friday Joan to Headline Cropredy

11/8/2012 Saturday Skanderborg Festival Smukfest DK-Skanderborg
12/8/2012 Sunday Sentrum Scene NO-Oslo
24/8/2012 Friday The Forum Barrow in Furness
25/8/2012 Festival Saturday Blues Festival Colne


CONCERT HALLS
SEPTEMBER
19/09/2012 Wednesday The Esplanade Fleetwood
21/09/2012 Friday Millennium Forum Derry
22/09/2012 Saturday Dublin Vicar Street Dublin
23/09/2012 Sunday The Grand Opera House Belfast
25/09/2012 Tuesday INEC Kilarney
26/09/2012 Wednesday University Concert Hall Limerick

SEPTEMBER
28/09/2012 Friday Theatre Severn Shrewsbury
29/09/2012 Saturday Theatre Severn Shrewsbury
30/9/2012 Sunday Baths Hall Scunthorpe

OCTOBER
01/10/2012 Monday Colosseum Watford
03/10/2012 Wednesday White Rock Theatre Hastings
04/10/2012 Thursday Cliffs Pavilion Southend
05/10/2012 Friday G Live Guildford
06/10/2012 Saturday Town Hall Cheltenham
08/10/2012 Monday Kings Theatre Southsea
09/10/2012 Tuesday Waterside Theatre Aylesbury
10/10/2012 Wednesday Marlowe Theatre Canterbury
11/10/2012 Thursday Ipswich Regent Ipswich
13/10/2012 Saturday The York Barbican York
14/10/2012 Sunday The Sage Gateshead Gateshead
15/10/2012 Monday Corn Exchange Cambridge
16/10/2012 Tuesday The Hawth Crawley
18/10/2012 Thursday St Davids Hall Cardiff
19/10/2012 Friday Grand Theatre Swansea
20/10/2012 Saturday Derby Assembly Rooms Derby
21/10/2012 Sunday TBA TBA
23/10/2012 Tuesday Warwick Arts Centre Coventry
24/10/2012 Wednesday Aberystwyth Arts Centre Aberystwyth
26/10/2012 Friday Symphony Hall Birmingham
27/10/2012 Festival Saturday Joan to Headline
International Festival Silgo
28/10/2012 Sunday Concert Hall Glasgow
29/10/2012 Monday Concert Hall Perth
30/10/2012 Tuesday Music Hall Aberdeen

NOVEMBER
01/11/2012 Thursday Usher Hall Edinburgh
02/11/2012 Friday De Montfort Hall Leicester
03/11/2012 Saturday Pavillion Theatre Rhyl
04/11/2012 Sunday The Bridgewater Hall Manchester
05/11/2012 Monday St George's Hall Bradford
07/11/2012 Wednesday Royal & Derngate Northampton
08/11/2012 Thursday Opera House Buxton
09/11/2012 Friday Philharmonic Hall Liverpool
10/11/2012 Saturday Concert Hall Stevenage
12/11/2012 Monday Brighton Dome Brighton
13/11/2012 Tuesday Colston Hall Bristol
14/11/2012 Wednesday Princess Theatre Torquay
15/11/2012 Thursday Lighthouse Poole
17/11/2012 Saturday The Anvil Basingstoke
18/11/2012 Sunday New Theatre Oxford
19/11/2012 Monday The Victoria Hall Stoke on Trent
20/11/2012 Tuesday Assembly Halls Tunbridge Wells
22/11/2012 Thursday The Hexagon Reading
23/11/2012 Friday Indigo2 at The 02 London
24/11/2012 Saturday Indigo2 at The 02 London
26/11/2012 Monday Gloria GER-Köln
29/11/2012 Thursday Kulturhaus Osterfeld Osterfeld
30/11/2012 Friday Centralstation Darmstadt

DECEMBER
2/12/2012 Sunday Kesselhaus GER-Berlin
5/12/2012 Wednesday Kulturetage Oldenburg
6/12/2012 Thursday Fabrik Hamburg
8/12/2012 Saturday Stadt Offenburg Reithalle Offenburg
---
---