The Guitarists : Joe Bonamassa
---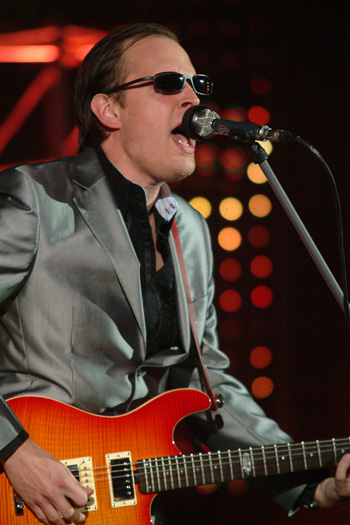 Photo: Noel Buckley
Sunday 13 May 2012, 21:00 Joe Bonamassa
An hour of some of Joe's favourite tracks along with his own material and our interview from 2010
Broadcast history:
July 2009, Featured Artist
Joe Bonamssa Special, Sunday 30 May 2009, 22:00
David Randall talks to Joe about current plans
Now available as a podcast
---
JOE BONAMASSA
When you play to a sold-out Albert Hall in London you know you have arrived. And, for Joe Bonamassa in May 2009, the taste must have been especially sweet as this was the former stomping ground for his spiritual antecedent Eric Clapton, and Cream, forty years earlier.

Joe Bonamassa's debut album was released in 2000, 'New Day Yesterday', and started a trend for cover versions, also reflecting his musical influences, in particular seventies rock influenced by Led Zeppelin and Free.

Picking up awards for 'best blues guitarist' in 2007 and 2008, Bonamassa has since progressed to embrace a more rock orientated style, blues influenced, but taking in progressive and heavier rock elements at times. To this end, his latest album released in 2009 'The Ballad Of John Henry' is again produced by Kevin Shirley (Aerosmith, Journey, Rush, Led Zeppelin etc.).
---
Joe Bonamassa's Favourite Tracks
FREE Fire And Water
RY COODER Down In Mississippi
ALBERT KING As The Years Go Passing By
BB KING Night Life
BLACK SABBATH Sign Of The Southern Cross
BOZ SCAGGS Breakdown Road Ahead
THE FACES I'd Rather Go Blind
HUMBLE PIE Black Coffee
JEFF BECK GROUP Short Business
JOHN MAYALL'S BLUESBREAKERS So May Roads
MUDDY WATERS I Just Want To Make Love To You
---