The Songwriters: Ann Wilson (Heart)
---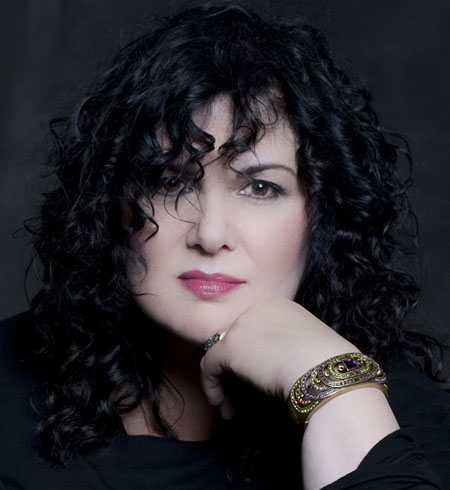 Ann Wilson chats to David Randall about her career.
The band Heart play UK dates 29 June-3 July 2016.
Now available at Mixcloud
Broadcast history
Sunday 23 March 2014, 13:00
Sunday 6 April 2014, 16:00
Sunday 29 May 2016, 18:00 (Thursday 2 June, 22:00 repeat)
---
ANN WILSON/Heart
Ann Wilson has been described as one of the finest female rock vocalists of all time. She joined the nascent version of the band Heart in the early-1970s, soon to be joined by her sister Nancy.
The band had relocated to Canada and were signed to a small label Mushroom Records for whom they released their debut - in 1975 - 'Dreamboat Annie'. When released in the US in 1976 the album spawned two hit singles 'Crazy On You' and 'Magic Man'. Some confusion surrounded the follow-up, the band had signed to CBS and a legal battle with Mushroom Records ensued. That label released an "early" version of 'Magazine' in 1977, a year later the band released their CBS (Portrait) debut 'Little Queen'. This included 'Barracuda' which became a hit single. 'Magazine' was then reissued in 1978 to settle the legal dispute, with the band re-recording and sequencing the songs.
In the late-seventies the band went through several personnel changes and by the early-1980s only guitarist Howard Leese remained from the original band. Heart also struggled against the musical climate of punk and new wave. A shift to a new label, Capitol, and the release of their self-titled album in 1985 marked a change in the band's fortunes. The album made No.1 in the U.S. charts with four Top 10 singles including 'What About Love' and 'These Dreams'. By the late-1980s, Heart typified the popular "stadium rock" sound of the period and 'Bad Animals' (1987) evidenced this change in their musical direction whilst also giving them a No.1 single in 'Alone'.
To some extent in the 1990s the band Heart went on the back-burner as both Ann and Nancy worked through personal issues (Ann was fighting alcohol and Nancy was raising a family). In spite of a "band" album released in 1993 ('Desire Walks On'), the sisters pursued other musical interests including the semi-acoustic The Lovemongers. Ann also worked with Alice In Chains and appeared on their 1992 EP, 'Sap'.
Heart re-constituted in 2002 and the first tour was captured on the DVD 'Alive In Seattle'. Their first album since 1993 was released in 2004 - 'Jupiter's Darling' - followed by 'Red Velvet Car' in 2010 and 'Fanatic' in 2012. The latest tour is captured on the CD/DVD release 'Fanatic Live From Caesars Colosseum', released in February 2014.
Ann Wilson's first solo album was released in 2007 and includes duets with her sister and one with Elton John. The album consists of cover versions including 'Immigrant Song' by Led Zeppelin attesting Wilson's love of that band (and reflected in the inclusion of Zeppelin covers in the Heart live sets).
Ann has won numerous awards for her songwriting and for Heart's contribution to rock music in general. In December 2012 Ann and Nancy Wilson were inducted to the Rock And Roll Hall of Fame cited as "pioneers ... that inspired women to pick up an electric guitar or start a band".
Although they are perhaps best-known for their 1980s power ballads, the band's albums have mixed both hard rock and more folksy styles. The sisters' memoir 'Kicking & Dreaming' was published in 2012 and reflects a frustration with the "hair metal" period of their history although it was their most successful period commercially.
---

Album review (Fanatic Live, 2014)
---
---