As an author, Billy James has written several critically acclaimed and best selling books, with various reprints and versions in different languages including No More Mr. Nice Guy - The Inside Story Of The Alice Cooper Group (with Michael Bruce) and Lunar Notes - Zoot Horn Rollo's Capt. Beefheart Experience (with Bill Harkleroad). He is currently completing vol.2 of his Todd Rundgren biography.
As a musical artist, James records under the guise of ANT-BEE and has several albums out featuring the likes of the former Mothers members, original Alice Cooper Group members and Daevid Allen (Gong).
Billy James also runs Glass Onyon PR, a full line publicity company. Some of his clients are Kevin Godley and Graham Gouldman (10cc), Wishbone Ash, Mark Volman (Turtles, Flo&Eddie), Vanilla Fudge, The Grand Mothers, The Lizards (ex-BOC/Rainbow), Don Preston and many more.
---
www.ant-bee.com/glassonyonpr.htm
>> Like Progressive? Try Progressive Fusion
---
Playlists 2011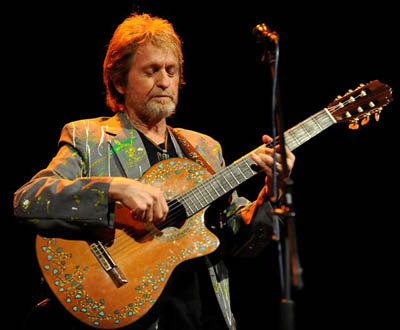 Sunday 3 July 17:00 Jon Anderson Special
The legendary singer introduces his new album, 'Survival And Other Stories'
May 1 2011 Listening Through A Glass Onyon #20 (repeat)
Special Edition - Jon Anderson Tribute

1) Glass Onyon ID
2) State Of Independence - Jon & Vangelis - The Friends Of Mr. Cairo - Polydor 1981
3) Hear It - Jon Anderson - Song Of Seven - Atlantic 1980
4) Prince Rupert Awakes - King Crimson (feat. Jon Anderson on vocals) - Lizard - EG Records 1970
5) To The Runner - Jon Anderson - Olias Of Sunhillow - Atlantic 1976
6) Far Far Cry - Jonathan Elias (feat. Jon Anderson on vocals) - Requiem For The Americas - Enigma1990
7) In High Places - Mike Oldfield (feat. Jon Anderson on vocals) - Crises - Virgin 1983
8) Spring - Song Of Innocence - Alan White (feat. Jon Anderson on vocals) - Ramshackled - Atlantic 1976
9) All In A Matter Of Time - Jon Anderson - Animation - Atlantic 1982
10) Change We Must - Jon Anderson - Change We Must - EMI 1994
11) I'm Alive - Anderson Bruford Wakeman Howe - s/t - BMG 1989
12) First Song - Jon Anderson - Tour of the Universe DVD - Wea International 2005
13) Island of Life - Kitaro (feat. Jon Anderson on vocals) - Dream - Domo Records 1992
14) EarthMotherEarth - Jon Anderson - EarthMotherEarth - Ellipsis Arts 1997
15) I'll Find My Way Home - Jon & Vangelis - same as #2
16) Glass Onyon ID

Produced by Billy James for Get Ready to ROCK! Radio
April 3 2011 Listening Through A Glass Onyon #25
Special Edition - Frank Zappa Tribute - 1972-74

1) Glass Onyon ID
2) Waka/Jawaka - Waka/Jawaka-Hot Rats - Bizarre 1972
3) Cletus Awreetus-Awrightus - Grand Wazoo - Bizarre 1972
4) Blessed Relief - same as track #3
5) Camarillo Brillo - Overnight Sensation - Discreet 1973
6) I Am The Slime - same as track #5
7) Montana - same as track #5
8) Don't Eat The Yellow Snow - Apostrophe - Discreet 1974
9) Nanook Rubs It - same as track #8
10) St. Alfonzo's Pancake Breakfast - same as track #8
11) Father O'blivion - same as track #8
12) Stink-Foot - same as track #8
13) RDNZL - Leather - Rykodisc 1996

Produced by Billy James for Get Ready To ROCK! Radio
March 6 2011 Listening Through A Glass Onyon #11 (repeat)
Special Edition - Frank Zappa & the Mothers of Invention

1) Opening sequence - Glass Onyon ID
2) Duodenum (Theme From Lumpy Gravy) - Lumpy Gravy - MGM 1968
3) Dog Breath - Uncle Meat - Bizarre 1968
4) My Guitar - Weasels Ripped My Flesh - Bizarre 1970
5) Holiday In Berlin Full Blown - Burnt Weeny Sandwich - Bizarre 1969
6) Aybe Sea - same as #5
7) Let's Make The Water Turn Black - We're Only In It For The Money - MGM 1967
8) Run Home Slow: The Main Title Theme - live 1969 - You Can't Do That On Stage vol. 5
9) The Little March - same as #8
10) Electric Aunt Jemima - same as #3
11) Son of Suzy Creamcheese - Absolutely Free - MGM 1967
12) The Uncle Meat Variations - same as #3
13) Stuff Up The Cracks - Cruising With Ruben and the Jets - MGM 1968
14) Idiot Bastard Son - Mothermania - MGM 1969
15) Theme From Burnt Weeny Sandwich - same as #5
16) Lonely Little Girl - single - MGM 1967
17) The Dog Breath Variations - same as #3
18) Help I'm A Rock - live at Festival Hall, UK 1968 - Ahead Of Their Time - Zappa 1993
19) Transylvania Boogie - same as #18
20) Oh No - same as #4
21) The Orange County Lumber Truck - same as #4
22) Dwarf Nebula Processional March - same as #4
23) Glass Onyon ID
Produced by Billy James for Get Ready to ROCK! Radio
Feb 6 2011 Listening Through A Glass Onyon #24
Special Edition - Alice Cooper Group Tribute


1) Glass Onyon ID
2) Caught In A Dream - Love It To Death - Reprise 1971
3) I'm Eighteen - same as track #1
4) Under My Wheels - Killer - Warner Bros 1971
5) Be My Lover - same as track #4
6) Halo of Flies - same as track #4
7) Desperado - same as track #4
8) School's Out - School's Out - Warner Bros 1972
9) Looney Tune - same as track #8
10) Gutter Cat vs The Jets - same as track #8
11) Public Animal #9 - same as track #8
12) Hello Hooray - Billion Dollar Babies - Warner Bros 1973
13) Billion Dollar Babies - same as track #12
14) Elected - same as track #12
15) No More Mr. Nice Guy - same as track #12
16) Muscle of Love - Muscle of Love - Warner Bros 1974
17) Teenage Lament - same as track #16
18) Glass Onyon ID

Produced by Billy James for Get Ready to ROCK! Radio
Jan 2 2011 Listening Through A Glass Onyon playlist #23
Special Edition - Focus Tribute

1) Glass Onyon ID
2) Hocus Pocus - Moving Waves - EMI 1972
3) House Of The King - single - EMI 1972
4) Focus 2 - same as track #2
5) Tommy - same as track #2
6) Love Remembered - Focus 3 - EMI 1973
7) Sylvia - same as track #6
8) P's March - Ship of Memories - EMI 1976 (sessions from 1973)
9) Glider - same as track #8
10) Crackers - same as track #8
11) Harem Scarem - Hamburger Concerto - EMI 1974
12) Birth - same as track #11
13) Mother Focus - Mother Focus - EMI 1975
14) Bennie Helder - same as track #13
15) No Hang Ups - same as track #13
16) Delitae Musicae - same as track #11
17) Glass Onyon ID
Produced by Billy James for Get Ready to ROCK! Radio
Playlists 2010
Jan 3 2010 Listening Through A Glass Onyon playlist #11
Special Edition - Frank Zappa & the Mothers of Invention

1) Opening sequence - Glass Onyon ID
2) Duodenum (Theme From Lumpy Gravy) - Lumpy Gravy - MGM 1968
3) Dog Breath - Uncle Meat - Bizarre 1968
4) My Guitar - Weasels Ripped My Flesh - Bizarre 1970
5) Holiday In Berlin Full Blown - Burnt Weeny Sandwich - Bizarre 1969
6) Aybe Sea - same as #5
7) Let's Make The Water Turn Black - We're Only In It For The Money - MGM 1967
8) Run Home Slow: The Main Title Theme - live 1969 - You Can't Do That On Stage vol. 5
9) The Little March - same as #8
10) Electric Aunt Jemima - same as #3
11) Son of Suzy Creamcheese - Absolutely Free - MGM 1967
12) The Uncle Meat Variations - same as #3
13) Stuff Up The Cracks - Cruising With Ruben and the Jets - MGM 1968
14) Idiot Bastard Son - Mothermania - MGM 1969
15) Theme From Burnt Weeny Sandwich - same as #5
16) Lonely Little Girl - single - MGM 1967
17) The Dog Breath Variations - same as #3
18) Help I'm A Rock - live at Festival Hall, UK 1968 - Ahead Of Their Time - Zappa 1993
19) Transylvania Boogie - same as #18
20) Oh No - same as #4
21) The Orange County Lumber Truck - same as #4
22) Dwarf Nebula Processional March - same as #4
23) Glass Onyon ID
Produced by Billy James for Get Ready to ROCK! Radio
---
Feb 7 2010 Listening Through A Glass Onyon playlist #12
Special Edition - Tribute to Sonja Kristina featuring tracks by Curved Air, MASK and solo.

1) Opening sequence - Glass Onyon ID
2) Young Mother - Curved Air - 2nd Album - 1971 / 2000 Collectors Choice
3) Back Street Love- Curved Air - same as #2
4) Sound &Vision - MASK - Technopia - rare 2010
5) Marie Antoinette - Curved Air - Reborn - 2009
6) Melinda More or Less - Sonja Kristina - Songs From The Acid Folk - 1990 / 2001 Market Square
7) Not Quite The Same - Curved Air - Phantasmagoria - 1972 / 2000 Collectors Choice
8) Phantasmagoria - Curved Air - same as #7
9) Undulations - MASK - same as #4
10) Blindman - Sonja Kristina - Harmonics of Love - 1994 / 2009 Market Square
11) Paean - MASK - Heavy Petal - Mandalic 2005
12) Free To Be Me - Sonja Kristina - same as #6
13) You Know - Curved Air - same as #2
14) Jumbo - Curved Air - same as #2
15) Every Dance - Curved Air - same as #2
16) Glass Onyon ID

Produced by Billy James for Get Ready to ROCK! Radio
---
March 7 2010 Listening Through A Glass Onyon playlist #13 (1 Year Anniversary show)
Special Edition - Tribute to Marc Bolan & T. Rex

1) Glass Onyon ID
2) Metal Guru - The Slider - EMI 1972
3) The Slider - same as #2
4) Cadillac - single - EMI 1972
5) Country Honey - Tanx - EMI 1973
6) Sunken Rags - single - EMI 1972
7) Solid Gold EZ Action - single - EMI 1973
8) 20th Century Boy - single - EMI 1973
9) Venus Loon - Zinc Alloy and the Hidden Riders of Tommorow - EMI 1974
10) The Groover - single - EMI 1974
11) Till Dawn - Zip Gun Boogie - EMI 1975
12) Zip Gun Boogie - same as #11
13) Jupiter Liar - Futuristic Dragon - EMI 1976
14) New York City - same as #13
15) Lazer Love - single - EMI 1976
16) Jason B. Sad - Dandy In The Underworld - EMI 1977
17) Soul of My Suit - same as #16
18) Teen Riot Structure - same as #16
19) Celebrate Summer - single - EMI 1977
20) Glass Onyon ID
Produced by Billy James for Get Ready to ROCK! Radio
---
April 4 2010 Listening Through A Glass Onyon playlist #14
Special Edition #2 - Frank Zappa & the Mothers of Invention
"Pigs & Repugnance"

1) Opening sequence - Glass Onyon ID
2) In The Sky - Festival Hall, London, UK 1968
3) Help I'm A Rock / Transylvania Boogie - Festival Hall, UK 1968 - Ahead Of Their Time - Barking Pumpkin Records 1993
4) Charles Ives - Columbia University, NYC 1969 - YCDTOSA #5 - Ryko 1992
5) Wedding Dress Song / The Handsome Cabin Boy - Mystery Disc - Ryko 1998
6) Big Leg Emma - The Arc, Boston, MA 1969
7) Run Home Slow: Main Title Theme / The Little March - same as #4
8) Black Beauty - Thee Image, Miami, FL 1969 - Mystery Disc - Ryko 1998
9) Lets Make The Water Turn Black / Harry You're A Beast / The Orange County Lumber Truck - The Ballroom, Stratford, CT - 1969 - YCDTOSA #1 - Ryko 1988
10) Igor's Boogie - same as #6
11) You Call That Music? - Columbia University, NYC 1969 - YCDTOSA #4 - Ryko 1991
12) Proto-Minimalism - same as #4
13) Meow - Whiskey-A-Go-Go, Hollywood, CA 1968 - YCDTOSA #5 - Ryko 1992
14) Baked-Bean Boogie - same as #6
15) Are You Upset? - Fillmore East, NYC 1969 - YCDTOSA #4 - Ryko 1991
16) No Waiting For The Peanuts To Dissolve - Thee Image, Miami, FL 1969 - YCDTOSA #5 - Ryko 1992
17) Chucha - Mystery Disc - Ryko 1998
18) Glass Onyon ID

Produced by Billy James for Get Ready to ROCK! Radio

---
May 2 2010 Listening Through A Glass Onyon playlist #15
Special Edition - Capt. Beefheart & the Magic Band

1) Opening sequence - Glass Onyon ID
2) Frying Pan - single - A&M 1966
3) Electricity - Safe As Milk - Buddah Records 1967
4) Beatle Bones 'N Smokin' Stones - Strictly Personal - Blue Thumb 1968
5) Willie The Pimp - with Frank Zappa - Hot Rats - Striaight 1970
6) Neon Meate Dream of a Octafish - Trout Mask Replica - Straight/Reprise 1970
7) Veteran's Day Poppy - same as #5
8) Flash Gordon's Ape - Lick My Decals Off Baby - Straight/Bizarre/Reprise 1970
9) White Jam - The Spotlight Kid - Reprise 1972
10) Alice In Blunderland - same as #8
11) Clear Spot - Clear Spot - Reprise 1972
12) Sun Zoom Spark - same as #10
13) Big Eyed Beans From Venus - Same as #10
14) Golden Birdies - same as #10
15) Peaches - Unconditionally Guaranteed - Mercury/Phonogram 1974
16) Sam With The Showing Scalp Flat Top - with Frank Zappa - Bongo Fury - Discreet 1975
17) Hard Workin' Man - Blue Collar Soundtrack - MCA 1978
18) Apes-Ma - Shiny Beast - Warner Bros 1978
19) Glass Onyon ID
Produced by Billy James for Get Ready to ROCK! Radio
---
June 6 2010 Listening Through A Glass Onyon playlist #16
Special Edition - Tribute to Grand Funk Railroad (the early years)

1) Opening sequence - Glass Onyon ID
2) Time Machine - On Time - Capitol 1969
3) Anybody's Answer - same as #2
4) Got This Thing On The Move - Grand Funk (Red Album) - Capitol 1969
5) Winter And My Soul - sames as #3
6) Hooked On Love - Closer To Home - Capitol 1970
7) I'm Your Captain - same as #6
8) Country Road - Survival - Capitol 1971
9) I Can Feel Him In The Morning - same as #8
10) Footstompin' Music - E Pluribus Funk - Capitol 1972
11) Loneliness - same as #11
12) Glass Onyon ID

Produced by Billy James for Get Ready to ROCK! Radio
---
July 4 2010 Listening Through A Glass Onyon playlist #17
Special Edition - The Beach Boys - Smile (reconstructed)

1) Opening sequence - Glass Onyon ID
2) Our Prayer
3) Heroes and Villains
4) Do You Like Worms?
5) Barnyard
6) Old Master Painter / You Are My Sunshine
7) Cabin Essence
8) Wonderful
9) Child Is Father of The Man
10) Surf's Up
11) Heroes and Villains (section)
12) I'm In Great Shape / I Wanna Be Around / Workshop
13) Vega-Tables
14) Tones / On A Holiday
15) Wind Chimes
16) Mrs, O'Leary's Cow
17) Cool Cool Water
18) Our Prayer
19) Good Vibrations
20) You're Welcome (b-side to Good Vibrations single)
21) Look (unreleased track from Smile sessions)
22) Glass Onyon ID
Produced by Billy James for Get Ready to ROCK! Radio
---
August 1 2010 Listening Through A Glass Onyon playlist #18
Special Edition - Frank Zappa & The Mothers - The Flo & Eddie Years

1) Opening sequence - Glass Onyon ID
2) Tell Me You Love Me - Chunga's Revenge - Bizarre 1970
3) Magic Fingers - 200 Motels - United Artists - 1970
4) Peaches En Regalia - Fillmore East - June 1971 - Bizarre 1971
5) Tears Began To Fall - same as #3
6) Call Any Vegetable - Just Another Band From L.A. - Bizarre 1972
7) Little House I Used To Live In - same as #4
8) Sharleena - same as #2
9) Daddy, Daddy, Daddy - same as #3
10) Concentration Moon - Playground Psychotics - Barking Pumpkin Records 1992
11) Mom & Dad - same as #10
12) Dog Breath - same as #6
13) She Painted Up Her Face - same as #3
14) Half A Dozen Provacative Squats - same as #3
15) Shove It Right In - same as #3
16) Would You Go All The Way? - same as #2
17) What Will This Evening Bring Me This Morning? - same as #3
18) Road Ladies - same as #2
19) Divan - same as #10
20) Happy Together - same as #4
21) Glass Onyon ID
---
September 2010 Listening Through A Glass Onyon (Special)
ANT-BEE - Electronic Church Muzik

1) Birth - Gilli Smyth (vocals/space whisper), Bunk Gardner (flute), ANT-BEE (glissando guitarre, percussion)
2) Living - Michael Bruce (guitars, bass, sitar), Bunk Gardner (sax), Mod Martian (trumpet), ANT-BEE (vocals, percussion, keyboards)
3) The Language Of The Body - Daevid Allen (vocal), Don Preston (keyboards, moog, electronics, music concrete middle section), Bunk Gardner (saxes), Buzz Gardner (trumpet), ANT-BEE (percussion, tape manipulations), Cymbaline ("now is the happiest time of your life")
4) Eye Of Agomoto - Don Preston (keyboards), Bunk Gardner (sax), Motorhead (snorks), Jimmy Carl Black ("Are you shaaggg!!!"), ANT-BEE (percussion, vibes, cuica, tape manipulations)
5) The Guff (Hall of Souls) - Gilli Smyth (vocal/space whisper), Peter Banks (guitar), ANT-BEE (percussion)
6) Mallard Flies Towards Heaven - Zoot Horn Rollo (guitar), Rockette Morton (bass), ANT-BEE (harp, washboard, percussion)
7) ANT-BEE's Sunday Supper - Michael Bruce (vocal), Chickens (chickens)
8) Flutter-Bye, Butter-Flye - Michael Bruce (guitars, bass, keyboards), Sun Raw (recorder), ANT-BEE (vocals, Mellotron, percussion, violin, butter-flye-flap)
9) Endless Journey - Peter Banks (guitars), ANT-BEE (percussion), Humpback Whale (vocals)
10) The Light - Alessandro Pizzin (keyboards), Cor Gout (vocal), ANT-BEE (tape manipulations, choral reconstructions)
11) Mannah - Jan Akkerman (guitar), ANT-BEE (mellotron, percussion)
12) Psalm 23 - Artemiy Artemiev (keyboards), ANT-BEE (choir)
13) Hallelujah - Peter Frohmader (keyboards, electronics, composition construction), ANT-BEE (percussion, vibes, tape manipulations), Monks (chant)
14) The Wrath - Part One (The Flood) - ANT-BEE (harp, keyboards, vibes, mellotron, choral constructions, tape manipulations), Animals (choir), Donkey (vocal)
15) Secrets Of The Dead - Bruce Cameron (guitars, bass, sitars), ANT-BEE (vocal, percussion, tape manipulations)
16) Pennies From Heaven - Groucho Marx (vocals, and phone call of destiny)
17) The Wrath - Part Two (Baptism Through Fire) - Gilli Smyth ("your destiny"), ANT-BEE (tape manipulations, war machine, bees, choral reconstructions)
18) The Lords Prayer - The Great Computor (leader of prayer)
19) Angels - Angels
20) Don't You Ever Learn? - Napoleon Murphy Brock (lead vocal), Moogy Klingman (keyboards), Don Preston (Moog), Bunk Gardner (sax), Napoleon's niece? (BG vocals), Jack Daughtry (pedal steele), ANT-BEE (percussion, Mellotron, vibes, tape manipulations)
21) Re-Birth - Gilli Smyth (vocal, space whisper), Daevid Allen ("oh"), ANT-BEE (glissando guitarre, vibes, percussion)
22) Final Benediction - Lord We Thank You - Cymbaline (vocal)

Produced, arranged and struggled with by Billy James
(c) 2010 www.ant-bee.com
---
September 5 Listening Through A Glass Onyon playlist #19
Special Edition - Peter Banks Tribute

1) Opening sequence - Glass Onyon ID
2) 14 Hour Technicolour Dream - Syn - 1967 single
3) Every Little Thing - Yes - s/t - Atlantic 1969
4) Looking Around - same as #3
5) Survival - same as #3
6) Astral Traveller - Yes - A Time And A Word - Atlantic 1970
7) Small Beginnings - Flash - s/t - Capitol Records 1972
8) Last Eclipse - Peter Banks - The Two Sides Of Peter Banks- Capitol Records 1973
9) Beyond The Loneliest Sea - same as #8
10) Lifetime - Flash - In The Can - Capitol Records 1972
11) Lost Days - Peter Banks - Self-Contained - One Way Records 1995
12) The Age Of Distortion - Peter Banks - Reduction - HTD Records 1997
13) Get Out Of My Fridge - same as #8
14) Glass Onyon ID

Produced by Billy James for Get Ready to ROCK! Radio
---
October 3 Listening Through A Glass Onyon playlist #20
Special Edition - Jon Anderson Tribute


1) Glass Onyon ID
2) State Of Independence - Jon & Vangelis - The Friends Of Mr. Cairo - Polydor 1981
3) Hear It - Jon Anderson - Song Of Seven - Atlantic 1980
4) Prince Rupert Awakes - King Crimson (feat. Jon Anderson on vocals) - Lizard - EG Records 1970
5) To The Runner - Jon Anderson - Olias Of Sunhillow - Atlantic 1976
6) Far Far Cry - Jonathan Elias (feat. Jon Anderson on vocals) - Requiem For The Americas - Enigma1990
7) In High Places - Mike Oldfield (feat. Jon Anderson on vocals) - Crises - Virgin 1983
8) Spring - Song Of Innocence - Alan White (feat. Jon Anderson on vocals) - Ramshackled - Atlantic 1976
9) All In A Matter Of Time - Jon Anderson - Animation - Atlantic 1982
10) Change We Must - Jon Anderson - Change We Must - EMI 1994
11) I'm Alive - Anderson Bruford Wakeman Howe - s/t - BMG 1989
12) First Song - Jon Anderson - Tour of the Universe DVD - Wea International 2005
13) Island of Life - Kitaro (feat. Jon Anderson on vocals) - Dream - Domo Records 1992
14) EarthMotherEarth - Jon Anderson - EarthMotherEarth - Ellipsis Arts 1997
15) I'll Find My Way Home - Jon & Vangelis - same as #2
16) Glass Onyon ID

Produced by Billy James for Get Ready to ROCK! Radio
---
November 7 Listening Through A Glass Onyon playlist #21
Special Edition - Wishbone Ash feat. Andy Powell
1) Glass Onyon ID
2) Dreams Outta Dust - Clan Destiny - Talking Elephant Records 2006
3) Surfing A Slow Wave (live) - Tracks 3 - Talking Elephant Records 2007
4) The King Will Come - Live In Hamburg - ZYX Music 2007
5) Northern Lights - The Power Of Eternity - Talking Elephant Records 2007
6) Eyes Wide Open - same as track #2
7) Bona Fide (live) - Tracks 2 - Talking Elephant Records 2002
8) Sometime World (live) - same as track #4
9) The Power - same as track #5
10) Ballad of the Beacon - same as track #4
11) Blowing Free - same as track #4
12) Loose Change - same as track #2
13) Glass Onyon ID

Produced by Billy James for Get Ready to ROCK! Radio


Visit the official Wishbone Ash website at www.wishboneash.com
---
5 December Listening Through A Glass Onyon playlist #22
Special Edition - Badfinger Tribute

1) Glass Onyon ID
2) Come And Get It - Magic Christian Music - Apple 1969
3) No Matter What - No Dice - Apple 1970
4) Without You - same as track #3
5) Midnight Caller - same as track #3
6) We're For The Dark - same as track #3
7) Day After Day - Straight Up - Apple 1972
8) Suitcase - same as track #8
9) Baby Blue - same as track #8
10) I Can Love You - Ass - Apple 1973
11) Apple Of My Eye - same as track #10
12) Andy Norris - Badfinger - Warner Bros 1974
13) Know One Knows - Wish You Were Here - Warner Bros 1974
14) Meanwhile Back At The Ranch/Should I Smoke - same as track #13
15) Look Out California - Airwaves - Elektra Records 1979
16) Love Is Gonna Last - same as track #15
17) Hold On - Say No More - Radio Records 1981
18) No More - same as track #17
19) Glass Onyon ID

Produced by Billy James for Get Ready to ROCK! Radio
---
---