The Songwriters: Tony Clarkin
---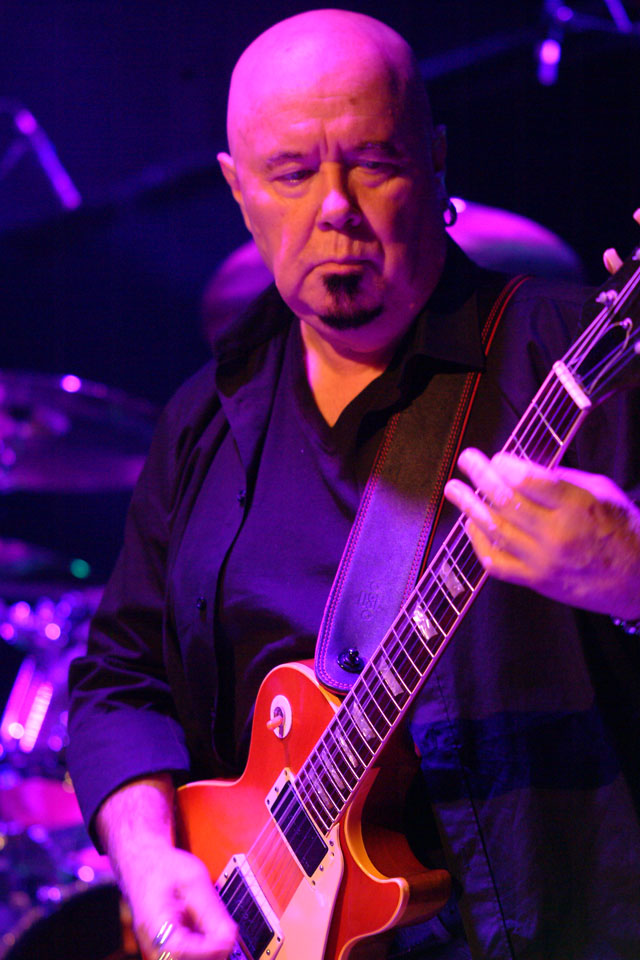 Photo: Noel Buckley
'Assume The Position', Sunday 2 March 2014, 22:00 GMT
Tony Clarkin talks about the album 'Escape From The Shadow Garden', released on 24 March.
---
Throughout his career Tony Clarkin has been closely associated with the melodic hard rock band Magnum. He is the band's songwriter and guitarist.

Although Tony's musical roots lie in the sixties, it wasn't until 1972 that he formed Magnum with long-time musical partner, vocalist Bob Catley. During the seventies they were mainstays at Birmingham's Railway Inn before signing to Jet Records in 1978.

The band's greatest period of success came in the 1980s, with the release of 'A Storyteller's Night' and their signing to Polydor in 1985 for whom they produced three studio albums.

The bands fortunes wavered after being dropped by Polydor, and by 1995 they had announced their farewell tour.

In spite of this hiatus, the core of Clarkin and Catley produced two albums as Hard Rain before deciding to reform Magnum in 2001, this time with Al Barrow on bass and Harry James on drums. Together with longstanding keyboard player Mark Stanway this now forms the current line-up.

The band have produced several albums since their reformation, all well received and all very typical of the band's 'classic' period. 2007's 'Princess Alice And The Broken Arrow" even had album artwork by Rodney Matthews.

In 2001 Tony Clarkin noted that "Since the end of the Seventies, in fact since we embarked on the preparations for our debut recording Kingdom Of Madness, not a single month had gone by in which I didn't work for Magnum, composed for the group, or at least thought of them permanently."

Consequently Clarkin is very closely associated with fashioning the band's sound and - almost exclusively - with the songwriting duties. There was only a temporary respite in 1989/90 when he collaborated with others on 'Goodnight LA'. This was arguably the least popular of all Magnum's albums (with the "classic" line-up) and resulted from the band's attempt to redefine their sound for the American market.

Magnum Tour Dates 2014
EU TOUR
07.04. FI-Helsinki - Tavastia
09.04. DK-Copenhagen - Amager Bio-with NeonFly
10.04. SE-Gotheburg - Sticky Fingers-with NeonFly
11.04. SE-Borlange - Liljan-with NeonFly
12.04. SE-Sandviken - Backstage Rockclun-with NeonFly

UK TOUR
19.04. UK-Southampton - The Brook -with NeonFly
20.04. UK-Buckley - Tivoli-with NeonFly
22.04. UK-Oxford - O2-with NeonFly
23.04. UK-Bristol - O2 -with NeonFly
24.04. UK-Norwich - Waterfront-with NeonFly
25.04. UK-Leamington Spa - Assembly Halls-with NeonFly
26.04. UK-Manchester - The Ritz-with NeonFly
28.04. UK-Nottingham - Rock City-with NeonFly
29.04. UK-Glasgow - Garage-with NeonFly
30.04. UK-Newcastle - O2-with NeonFly
02.05. UK-Holmfirth - Picturedome-with NeonFly
03.05. UK-Wolverhampton - Wulfrun Hall-with NeonFly
04.05. UK-London - Islington Town Hall-with NeonFly

06.05. NL-Uden - De Pul
07.05. B-Vosselaar - Biebob

MAGNUM & SAGA
GERMANY & SWISS DOUBLE HEADLINER TOUR*
08.05. D-Dortmund - FZW*
09.05. D-Cologne - E-Werk*
10.05. D-Emden - Nordseehalle*
12.05. D-Hamburg - Docks*
13.05. D-Berlin - Huxley`s Neue Welt*
15.05. D-Saarbrücken - Garage*
16.05. D-Filderstadt - FILharmonie*
17.05. D-Offenbach - Capitol*
19.05. D-Regensburg - Airport Obertraubling*
20.05. D-Nürnberg - Rockfabrik*
22.05. D-Munich - Circus Krone*
23.05. CH-Pratteln - Z7*
24.05. D-Ravensburg - Club-Oberschwabenhalle*

26.05. AT-Kufstien - Kulturfabrik
27.05. AT-Dornbirn - Conrad Sohm

MAGNUM live 2014 (Festival)
04.-07.06. SE-Sölvesborg - Sweden Rock Festival
---
Podcast, edited version of interview first broadcast in May 2009
Album review (Escape From The Shadow Garden, 2014)
Broadcast history
The Songwriters, Sunday 1 November 2009, 18:00
Updated 27.02.14
---