Favourite Tracks: Gerry McAvoy
---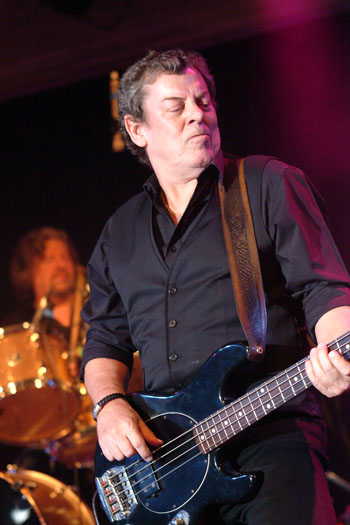 Photo: Noel Buckley
Favourite Tracks from Favourite Artists
---
Broadcast history
Sunday 9 November 2014, 17:00
Thursday 13 November, 22:00 repeat
Sunday 1 February 2015, 16:00 repeat
Long-standing Rory Gallagher bass player Gerry McAvoy chooses his favourite tracks
---
GERRY McAVOY

Gerry McAvoy was playing in a band called Deep Joy before the opportunity arose to join Rory Gallagher in his new "power trio", in 1970. Deep Joy were signed to the same management as Gallagher and came to his attention when they played gigs in London in the late-1960s.
Gerry became Rory's regular, and long-term, first lieutenant remaining with him from 1970 until 1991 and appearing on all the classic seventies albums including the legendary live 'Irish Tour '74'.
Gerry subsequently joined Nine Below Zero and worked with them until 2011. Since that time he has performed as Band Of Friends with one-time Gallagher drummer Ted McKenna and Dutch guitarist Marcel Scherpenzeel. They have so far released one album - 'Too Much Is Not Enough' - and tour regularly. Gerry has also performed at the Rory Gallagher celebration in Ballyshannon, Donegal.
Gerry has released two solo albums: in 1980 Bassics and 'Can't Win 'Em All' in 2010 (Angel Air Records). In 2005 he published his autobiography Riding Shotgun: 35 Years on the Road with Rory Gallagher and Nine Below Zero.
See also Rory Gallagher
---
Album review (Irish Tour '74...box set)
---