Featured Artist: Larkin Poe
---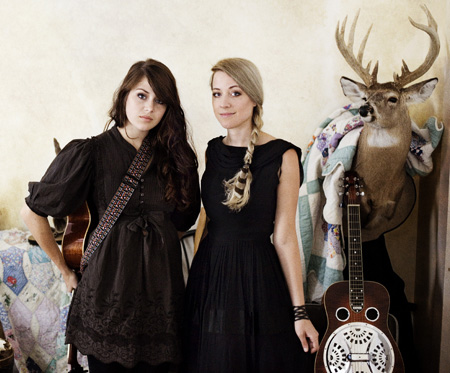 Photo: Brian Hall
Featured Artist: July 2012
We'll be adding more of Larkin Poe's music to our general playlists.
Sunday 1 July, 18:00
"The Songwriters" - Larkin Poe
David Randall chats to Rebecca and Megan Lovell
---
LARKIN POE
The Lovell sisters, Rebecca and Megan, grew up in Georgia and started playing classical violin and piano at the ages of 5 and 6.
In their early-teens, together with elder sister Jessica, they won a prestigious award on Garrison Keillor's A Prairie Home Companion on NPR and went on to perform at the Grand Ole Opry in Nashville. At the beginning of 2010, after saying 'farewell' to The Lovell Sisters, the musical story of Rebecca and Megan's young adulthood began in the form of a new band: Larkin Poe.

In less than two years the band have already released 5 studio projects of all-original music and their latest album 'Thick As Thieves' includes a concert DVD filmed in Norway in October 2011.

With Elvis Costello amongst their supporters (and for whom they have provided backing band in Europe) the girls are continuing to gather admirers wider afield and in summer 2012 embark on their most extensive UK tour to date.
---
Tour Dates 2012

JULY
Thursday 12 Stirling Tolbooth Theatre
01786 274 000 / http://tolbooth.stirling.gov.uk/tolbooth £10, 8pm
Friday 13 Stornoway Hebridean Celtic Festival - An Lanntair
Isle of Lewis 01851 621234 / www.hebceltfest.com £12, 8pm
Saturday 14 Stornoway Hebridean Celtic Festival - Main Arena
Isle of Lewis 01851 621234 / www.hebceltfest.com On stage evening
Wednesday 18 Wombwell Private House Concert
Nr. Barnsley SOLD OUT
Thursday 19 York The Basement
01904 612 940 / www.thebasementyork.co.uk £6, 8pm
Friday 20 Ravenshead The Stetson at Ravenshead Village Hall
Nr. Mansfield 01623 402891 / www.thestetson.info £12, 7.30pm
Saturday 21 Castle Carrock Music on the Marr Festival
Nr. Brampton, Cumbria 01228 670329 / www.musiconthemarr.com On stage evening
Sunday 22 Gateshead SummerTyne Americana Festival - Outdoor Jumpin' Hot Stage
www.jumpinhot.com/club_gigs.htm Free, 11.30am (on stage 4pm)
AUGUST
Friday 10 Cropredy Fairport's Cropredy Convention
Nr. Banbury, Oxfordshire 0900 637 1644 / www.fairportconvention.com/cropredy.php On stage at 5.05pm
Saturday 11 Cropredy Fairport's Cropredy Convention Guests of Fairport Convention & Friends
Nr. Banbury, Oxfordshire 0900 637 1644 / www.fairportconvention.com/cropredy.php On stage from 10pm
Sunday 12 Charlbury Wilderness Festival Check site for details
Oxfordshire 020 7688 9000 or 0843 221 0100 / www.wildernessfestival.com
Wednesday 15 London The Old Queens Head, Islington
020 7485 9899 / www.greennote.co.uk £9, 7.30pm
Thursday 16 Lewes Lewes Constitutional Club
01273 454053 / www.wegottickets.com/event/165560 £8, 8pm
Sunday 19 Escot Park Beautiful Days Festival SOLD OUT
Nr. Feniton, Devon www.beautifuldays.org On stage at 4.30pm
Tuesday 21 Oswestry The Ironworks
Shropshire 01691 679123 / http://the-ironworks.co.uk £6, 8 pm
Wednesday 22 Sheffield The Greystones
0114 2665599 / www.mygreystones.co.uk £10, 8pm
Thursday 23 Great Bardfield The High Barn
Nr. Braintree, Essex 01371 811 291 / www.high-barn.com £15.50, 7.30pm
Friday 24 Langton Matravers Purbeck Folk Festival
Nr. Swanage, Dorset 023 8071 1818 / www.purbeckfolk.co.uk
Saturday 25 Towersey Towersey Festival - Americana Afternoon at Venue 65
Nr. Thame, Oxfordshire 023 8071 1818 / www.towerseyfestival.com £17, 2pm
Sunday 26 Silloth Solfest - main stage
Nr. Aspatria, Cumbria 01900 602122 / www.solwayfestival.co.uk Check site for details


---
---