---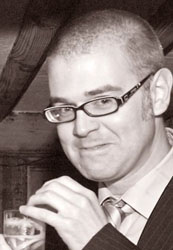 Jim Henderson
Jim's obsession with music began at an early age. His first attempts at broadcasting (in his bedroom!) involved crudely adding spoken word between songs that he'd taped from Radio 1's Top 40! More professional experience came in 1993 when he joined BBC Radio Oxford as a football commentator.

His first gig (aged 8!) was Status Quo on their 1984 'End Of The Road' tour. This was followed by an appearance on his hero Roland Rat's BBC TV show!
Jim's tastes have diversified since then and his interest in punk, followed by a fascination with The Beatles, eventually led to a passion for power pop. His compilation 'Burning Sounds - 20 Killer Power Pop Cuts!' was released by EMI's Zonophone imprint in 2007 and, on a different tangent, he is continuing work on a series of Lindisfarne and related reissues for the Market Square label.

Jim's weekly GRTR! output will predominantly focus on acts associated with power pop. These will include 60's pioneers (The Easybeats, The Hollies) and 70's legends (Badfinger, Big Star, The Knack, The Raspberries) through to modern day groups (Fountains Of Wayne, Gramercy Arms, Nada Surf) and the downright obscure (The Boyfriends, Cargoe, Daryll-Ann, Hot Dogs, Orange, The Pinkees).
There will also be power pop style tracks from unlikely sources (Del Shannon, Keith West, Levon Helm), and don't be surprised if the playlist strays into alt.country / Americana territory along the way, as Jim's a sucker for jangly, melodic tunes peppered with harmonies!

Thursdays 21:00, Sundays 14:00 (repeat)
---
Playlists (September 2009- (updated 22 October 2009)
---
Play a sample >>
Windows Media | Audio help