---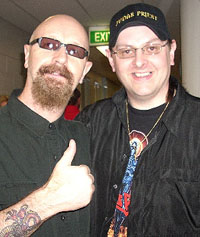 Rob Halford (Judas Priest) and The Rock Man
The Rock Man
Full Throttle Rock Radio currently produces and presents two shows - one for local radio in Melbourne, Australia and the other for UK internet radio station Get Ready to ROCK! Radio. The Rock Man, who is based in Melbourne Australia, showcases the best melodic hard rock and classic heavy metal from the 70s and 80s era, as well as taking a journey into the world of the new breed of artists that have emerged over recent years. The show also features news, reviews and artist interviews.

2008 has been a massive year for Full Throttle Rock with The Rock Man presenting interviews with industry legends including Rob Halford from Judas Priest, David Coverdale from Whitesnake, Biff Byford from Saxon, Kelly Keagy from Night Ranger, Lajon Witherspoon from Sevendust, Gary Cherone from Extreme, Nils K. Rue from Pagan's Mind, Anders Johannson from Hammerfall, Claus Lessmann from Bonfire, Paul Logue and Michael Eden from Eden's Curse and Sebastian Bach.

The Rock Man's interviews are featured in Dirty Rock Magazine – "The Digital Rock N Roll E-Zine".

The Rock Man and the Full Throttle Rock Crew have major plans for 2009, so stay tuned for updates.
Full Throttle Rock, as the name suggests, is a fast paced and energetic thrill ride aimed at music fans with a passion for life and good times. Regardless of age, gender or social standing, Full Throttle Rock brings one and all united under the banner of rock.

MySpace: http://www.myspace.com/fullthrottlerockradio
Contact The Rock Man

Saturdays, 22:00, Tuesday, 22:00 (repeat)
15 August: KK Downing (Judas Priest) interview and feature
---
>> Like Full Throttle Rock? Try Melodic Metal Mayhem